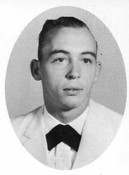 James Willard "Jim" Jenkins
Birth: 13 Apr 1941 Haywood County, USA
Death: 14 Jun 2018 (aged 77) Waynesville, Haywood County, North Carolina, USA
Burial: Sunny Point Baptist Church CemeteryHaywood County, North Carolina, USA
Memorial #: 190606672
Bio: James Willard "Jim" Jenkins, 77, passed away on Thursday, June 14, 2018 at Haywood Regional Medical Center.A native and lifelong resident of Haywood County, he was a son of the late William and Alcie Hutchins Jenkins. In addition to his parents, he was preceded in death by his wife, Nancy Putnam Jenkins, who died in 2014 and a son, Bobby Joe Jenkins, who died in 1983.Jim retired from Brevard Electric Company with 40 years of service and was a member of Sunny Point Baptist Church.He is survived by three daughters, Barbara Turner and Mark of Canton, Rebecca Ann Jenkins and Travis of Candler, and Marsha Lorraine Jenkins of Canton; and five grandchildren.Funeral services will be held at 11:00 a.m. on Monday, June 18, 2018 in the Canton Chapel of Wells Funeral Home. Burial will follow at Sunny Point Baptist Church Cemetery. The family will receive friends from 9:45 until 10:45 a.m. prior to the service at the funeral home.The care of Mr. Jenkins has been entrusted to Wells Funeral Homes.