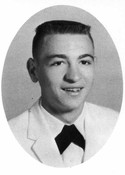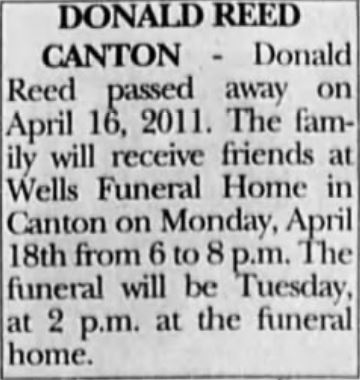 Donald Reed
http://themountaineer.villagesoup.com/p/Don-Reed/116888
CANTON — Donald Edward Reed, 66, passed away on Saturday, April 16, 2011 at Mission Hospitals Memorial Campus.
A native of Haywood County, he was the son of the late Oliver Windell and Evelyn Elizabeth Smith Reed. Don retired from Ball Brothers Corporation with 36 years services and attended Truth Baptist Church.
He is survived by his wife, Patricia Rhinehart Reed, three sons, David Reed and his wife, Charmion, of Gastonia; Donnie Reed and his wife, Sharon, of Bethel and Jonathan Reed and his wife, Rebecca, of Canton; one daughter, Pamela Parker, and her husband, John, of Clyde; two sisters, Betty Clark of Huntersville and Mary Smith of Waynesville; one brother, Carl Reed of Canton and seven grandchildren, Zachary, Dylan, Jordan, Sarah, Haley, Grace and Seth.
Funeral services will be held at 2 p.m. on Tuesday, April 19 in the Canton Chapel of Wells Funeral Home with the Pastor David Reed and Pastor Tom Shook officiating. Burial will follow after the service. The family will receive friends from 6 - 8 p.m. Monday evening at the funeral home. www.wellsfuneralhome.com.