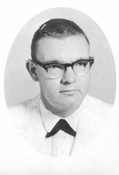 No obituary was found for this classmatel. If you know of one, please forward a copy to James Rice to include here.
William Alexander Wheeler
Age: 58 Years
Date of Birth: 6 Oct 1943 Haywood County, NC
Residence City: Waynesville, Haywood, North Carolina
Education: 5 or more years of college
Date of Death: 22 Jan 2002
Death City: Sylva, Jackson, North Carolina
Institution: Hospital Inpatient
Hospital Name: "HARRIS REGIONAL HOSP, INC"
Recorded Date: 20 Feb 2002
Source Vendor: North Carolina State Center for Health Statistics