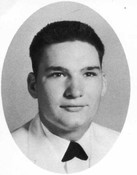 James Harrison Cogburn
Born in Haywood Co. on Sep. 17, 1943
Departed on Sep. 1, 2004 and resided in Canton, NC.
Canton-James Harrison Cogburn, age 60, of 133 Westmoreland Circle, died Wednesday, September 1, 2004 at his residence.
He was a native and lifelong resident of Haywood County and a son of the late Ed Cogburn and Edith Cogburn Gaddy. He was a former director of the world champion Carolina Cut-Ups Clogging Group and was also associated with Red Ivester's Carolina Cloggers.
He is survived by his wife of 43 years, Linda Worley Cogburn of Canton, two daughters, Cindy Cogburn and Tammy Deweese and her husband Ritchie of Canton, one brother and sister-in-law Bill Cogburn and Mary of Clyde, one aunt, Margaret Bartinikas of Clyde and two granddaughters, Faith Deweese and Ciera Cogburn.
A memorial service will be at 7:00 p.m. Saturday, September 4, 2004 at the Canton Chapel of Wells Funeral Homes & Cremation Services with Reverend Steve Miller officiating. Burial will be at Beaverdam Community Cemetery. The family will receive friends from 6:00 p.m. until 7:00 p.m. Saturday at the funeral home prior to the service. At other times, the family will be at the residence.


Burial:
Beaverdam Community Cemetery
Canton
Haywood County
North Carolina, USA