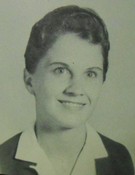 Linda Gail Putnam Born: 15 Nov 1942 in Forsyth County, NC
Died: 7 Nov 2011 (age 68) in Waynesville, Haywood County, NC
Burial: Antioch Baptist Church Cemetery, Iron Duff, Haywood County, NC
Clyde - Linda Gail Medford, age 68, of 177 Belmont Drive, passed away on Monday, November 7, 2011 at MedWest Haywood.

A native of Forsyth County, and a lifelong resident of Haywood County, she was the daughter of the late Letch and Lessie Kiser Putnam. She worked as a switchboard operator at Haywood County Hospital for 24 years and was an active member and former teacher at Beulah Baptist Church. Linda enjoyed spending time with her children and grandchildren.

She is surivived by her husband of 50 years, George Medford; one daughter, Kim Medford Owen and her husband, Jeff, of the Lake Logan Community; two sons, Mike Medford and his wife, Jean Ann, and Jeff Medford and his wife, Kim, all of Clyde; three grandchildren, Joey Marcus, Kalyn Medford, and Brayden Medford; and two great grandchildren, Sadie Bree Eubanks and Kendall Inman.

Funeral services will be held at 2:00 p.m. on Thursday, November 10, 2011 in the Waynesville Chapel of Wells Funeral Home with Reverend Barry Clark and Reverend Alan Davis officiating. Burial will follow at Antioch Baptist Church Cemetery. The family will receive friends from 6:00 until 8:00 p.m. on Wednesday at the funeral home.

Memorials may be made to Silver Bluff Nursing Home Activities Department, 100 Silver Bluff Drive, Canton, NC 28716.